The 2013 Grand Prix of USCES
Challenge TOULET MEDICAL
Thursday, September 12, 2013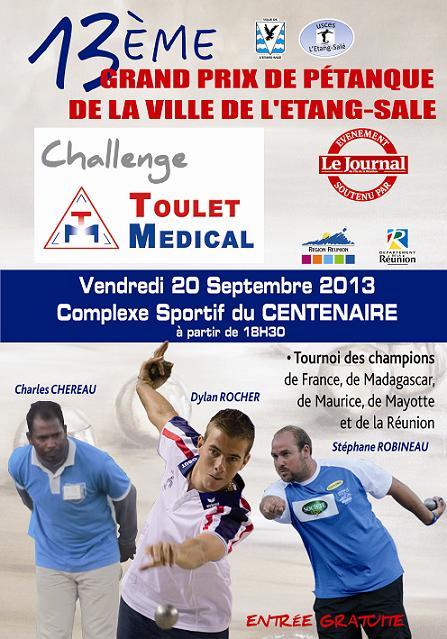 As part of the 13th edition of the Grand Prize of the City of Etang-Salé, is expected Friday, September 20th from 6:30 p.m. at the gym Complex Centennial Challenge TOULET MEDICAL.
It meets two doubles Metropolis, one of Madagascar, one of Mayotte, one Club Mahebourg 1 Club Quatre-Bornes and finally Reunion 2 teams will be composed of Fabrice Técher / Moussady Ishmael, the champions of the Meeting doubles in 2013 and Charles Chéreau / Maximin Naguin, winners of the Grand Prix in 2011.
The parties will be in direct elimination with a consolation for the losers of the first part.
We can expect high-level parts including with Dylan Rock, Damien Hureau, Stephane Robineau, gueven Rock, Malagasy and local champions.
Do not miss this event, which will undoubtedly be very fun to watch.
CHRISTOPHE VAUDREL
Written by CHRISTOPHE VAUDREL Thursday, September 12, 2013 at 08:54 CHRISTOPHE VAUDREL