The 2013 Grand Prix of USCES
Metros champions arrived Tuesday, September 17, 2013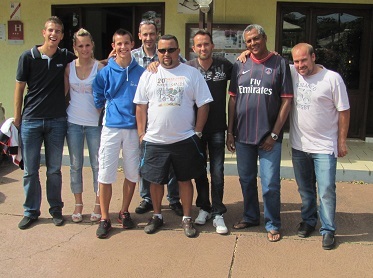 Subways are there!
Dylan Rocher gueven his brother , Damien Hureau and Stephane Robineau , champions alley, came to our island on Tuesday to attend the 13th edition of the Grand Prix de l'Etang -Salé " Trophy TOULET MEDICAL ". Lucie Rousseaux , also Emeritus player , accompanies them. They were greeted by Joel Caro, Ingrid Techer , Mimose Callimoutou Frank Lallier and Christophe Vaudrel .
Their motto is relaxing in the peaceful and enchanting of Floralys at Etang -Salé- les-Bains and sightseeing. Before starting the competition part Friday night , they will be on Wednesday afternoon at the Blue Bayou to guide the young gathering. And not to worry , Dylan Rocher has promised us a good show for the weekend along with his partner, gueven . For Damien Hureau and Stephane Robineau is the same creed . And can be trusted to keep their promises.
Other delegations arrive Thursday and all will be present at the inauguration.
CHRISTOPHE VAUDREL
Written by CHRISTOPHE VAUDREL Tuesday, September 17, 2013 at 18:56 CHRISTOPHE VAUDREL

BOWLS 13TH GRAND PRIX OF LAKE -SALE
Sunday, September 15, 2013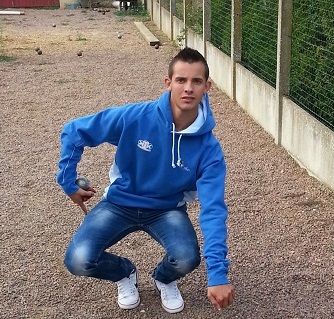 Gueven Rocher
will make his first grand prix de l'Etang -Salé
The big week begins !
The great week of bowls pond saléenne begins. Starting today , metropolitan champions will be in our island. Damien Hureau , Dylan Rock, Rock gueven Stephane Robineau and Lucie Rousseaux League champion , will recover from the summer to the Hotel Floralys before participating this weekend in the 13th GP de l'Etang -Salé " Trophy TOULET MEDICAL ". The delegations of Madagascar , Mauritius and Mayotte arrive Thursday and will be present for the opening scheduled in the evening. Previously, tomorrow, Wednesday , from 14:00 to bowling Christian Ah- Fat Blue Bayou will take place on young gathering with educators worldwide reputation. Friday night at the indoor bowling complex Centennial Challenge will be played TOULET MEDICAL, bringing together high-level eight doubles . And finally as a main course , Saturday and Sunday , 13th edition of the GP of the city. A week of bowls as we like . Come .
The full program :
Wednesday, September 18 at the Blue Bayou
14:00: youth rally
Thursday, September 19 at the Blue Bayou
19h00: Inauguration
Friday, September 20 at Centennial complex
18:30: Challenge Toulet Medical - Tournament of Champions doubles
Saturday, September 21 at Centennial complex
13:00: Registration begins Trophy Toulet Medical doubles in all categories
2:15 p.m. : Draw - off after the 8th Finals
Sunday, September 22
8:00 : Registration begins competition minimal doubles , juniors, ladies, veterans and additional
9:15 : Draws
10:00 : Quarterfinals Trophy Toulet Medical
14h00: Semifinals Medical Toulet Trophy
2:30 p.m. : Start consoling
16.30: Final Trophy Toulet Medical
18.30: Other Final
CHRISTOPHE VAUDREL
Written by CHRISTOPHE VAUDREL Sunday, September 15, 2013 at 15:38 CHRISTOPHE VAUDREL